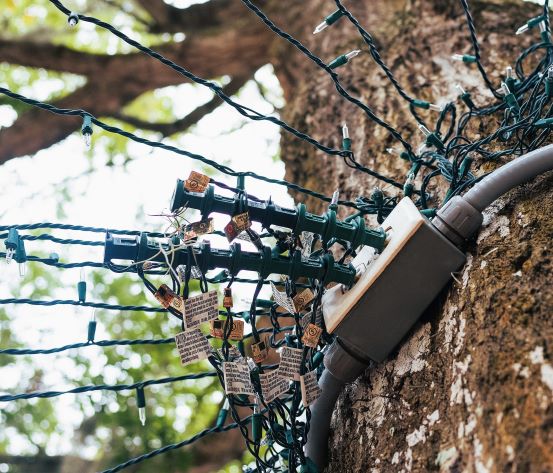 The Holidays are here and out pop the lights and decorations. There are strings of colored lights, movable reindeer, an inflatable Santa, and lots of extension cords.  Add in a little rain and our phone at TE Certified Electricians is ringing off the hook.  Here are some helpful hints to keep your lights burning during the Holidays.
Do The Math. An average household breaker can carry 1,800 watts before shutting off. Give yourself a little margin and call it 1,500. Christmas lights and powered decorations all come with labels stating their total wattage. Add your watts together and keep it under 1,500 per circuit for a more Merry Christmas.
Keep Dry. Protect your outdoor lighting from the rain.  Keep all extension cord plugs off the ground so groundwater will not cause the circuit to shut off your GFCI safety outlets.  Place a small rock or brick under any plugs, splitters, or connection point. Resist the temptation to bury or tape electrical cords as this only makes the problem worse by maintaining moisture. Make sure all connections are tight and only use outdoor rated lighting and cords.
Go Green. Consider upgrading to LED lighting. One of the great benefits of LED lights is that they are energy efficient which means you can put as many as 8 times more LED lights on a circuit than you could with traditional lights. Just think of that…8 times more lights to unravel.
Get Dedicated.  The best way to eliminate Christmas power anxiety is to install a dedicated circuit and outlet. Dedicated circuits allow you to power up your lights without bringing down the house and can be useful all year round for parties, cleaning equipment, and space heaters.  Show some dedication to Christmas and get your lights the power they deserve!
Take Time Out.  Install plug-in timers on your lights to reduce the overall load on your electrical system. Powering down during the wee hours of the night can help reduce electrical problems and saves you money. Don't worry Santa will still be able to find your house!