The sewer line that carries waste away from your home to the municipal sewer is of paramount importance. This line needs to be clear, solid, and strong. Older lines were constructed of materials like orangeburg and cast iron pipes that were prone to failure leading to clogs and back ups.
Sewer line back ups can also be caused tree root intrusion, ground settling, and other environmental factors. When this happens you may begin to notice a sewer smell, slow drains, and eventually sewage backup in your bathtubs, or basement floor drains. If this happens you'll want to call an experienced plumber with the tools needed to clean out or repair your system.
TE has a team of local plumbers dedicated to drain cleaning and same day emergency plumbing services. We carry multiple drain machines on our trucks to clear blocked sewer lines. We also have an expert plumber to complete a sewer camera inspection. Plumbing issues can be disruptive and stressful that's why we're here to guide you through the process of restoring your home to the comfortable, stress-free place you deserve.
---
TE Certified Plumbers are experienced in:
Sewer Cleaning

Sewer Camera Inspection

Sewer Line Repair

Sewer Line Replacement

Sewer Line Installation
We can offer options for either full replacements or spot sewer pipe repairs, allowing you to choose the option that best suits your particular situation. We also have full camera-inspection diagnostic capability, allowing you to see the condition of the interior of these pipes. This gives the homeowner a firsthand look at why the health of this system is so important.
---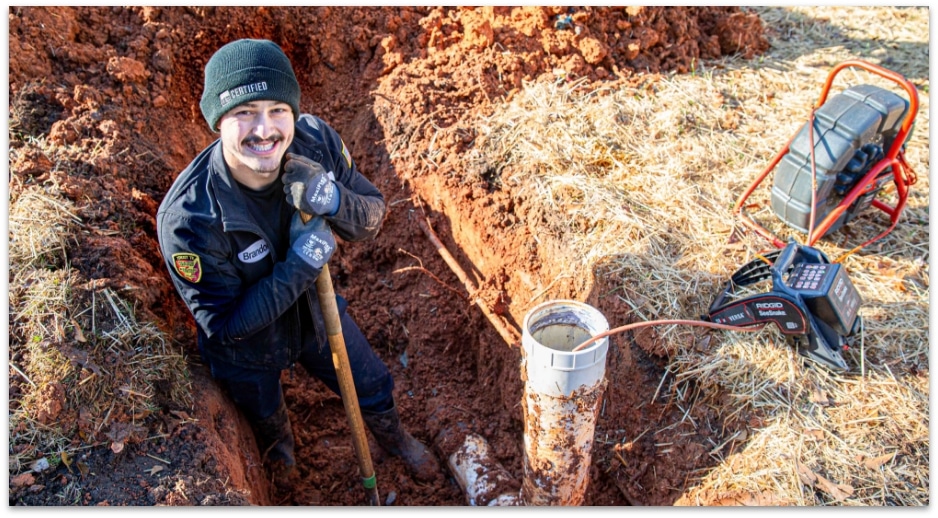 Sewer Line Repairs
Have you ever had a plumbing issue in your home that you just couldn't seem to fix? Maybe it's a slow drain or a clog that keeps coming back. These can be annoying, but they're usually not too serious.
However, there's one plumbing problem that is much more serious and requires the help of a professional and that's when you need sewer line repairs.
A sewer line carries all the waste water from your home and into the city sewer system. If there's a problem with your sewer line, it can cause sewage to back up into your home, leading to a major health hazard.
But how do you know if you need sewer line repair?
There are a few signs to watch out for.
First, check for water pooling around your home or in your yard. This could be a sign that your sewer line is leaking.
Second, pay attention to any strange odors coming from your drains. This could mean that sewage is already starting to back up into your home.
If you notice either of these signs, it's best to call a professional for help. Sewer line repair is not a DIY project! Thankfully, TE Certified is the best plumbing service company in the Atlanta area that offers sewer line repair services.
Sewer Line Maintenance and Inspection
If you are experiencing sewer line blockages we recommend sewer line cleaning and a complete visual inspection of the sewer system. Sewer inspection is accomplished through the use of a sewer camera.
Our plumbers are trained in all aspects of these high-tech systems to provide you with a visual indicator of any problems associated with your sewer system. After a camera inspection, your technician can then discuss your options to repair the problem.
Trusted Sewer Line Services & Solutions
Let's face it: sewer line problems stink! That's why the expert plumbers at TE Certified are ready to deliver prompt, reliable repairs every time. If you have any questions or would like to schedule a service, contact us or give us a call at (770) 667-6937 today!