Atlanta is a great place to live, but the hot and humid summers can be tough to get through without a reliable residential air conditioning system. If your AC unit is on the fritz, there are a number of air conditioning services available to help you get it up and running again. Many companies offer AC repair, replacement, and installation services, as well as seasonal air conditioner tune-ups to help keep your unit running smoothly.
With so many options available, it's easy to find a service that fits your needs and budget. And with the cooler months just around the corner, now is the perfect time to get your AC unit in top condition.
Get Home Air Conditioning Services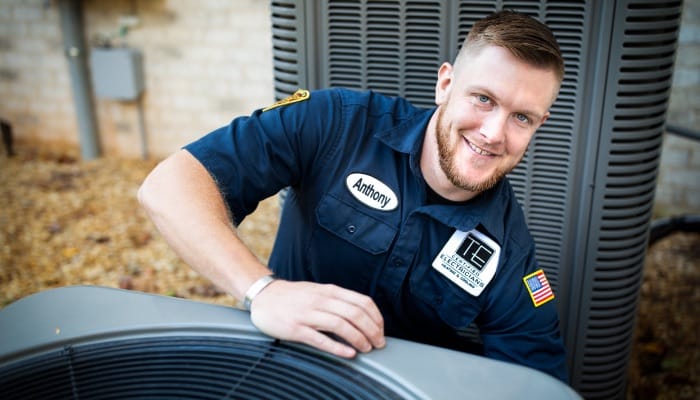 AC Repair Service
At some point, every homeowner will need to call on a residential air conditioning contractor for repair service. After all, even the best air conditioners can experience issues from time to time. Whether your air conditioner is not cooling properly or it's not turning on at all, a skilled technician will be able to diagnose the problem and get your system up and running again in no time.
So, if you're in need of AC repair, don't hesitate to reach out to your top-rated local HVAC company, TE Certified. Your home will thank you for it.
Installing a New AC System
Having a properly working air conditioner is essential for keeping your home comfortable, especially during the hot summer months in Atlanta. If your AC unit is no longer functioning properly, or you've been paying for repairs to fix the problem, we can replace your old AC unit with a new one, or install a new AC system if you don't have one already.
We're experienced and certified professionals who will make sure the job is done right, and we're always happy to answer any questions you may have. Contact us today to schedule a consultation, and we'll be happy to help you keep your cool all summer long.
AC Maintenance: Preserve the Life of Your Air Conditioner
Similar to your automobile, your AC needs regular tune-ups to keep working correctly. As part of your seasonal tune-up, your HVAC technician will ensure all the parts of your air conditioning system are clean and operating at maximum efficiency. We'll identify and replace damaged parts before they become a problem.
We'll also recommend non-emergency replacements and upgrades that can help extend the life of your AC system. This gives you the information and time to think about what you want to do with your system before you're on the spot to make a repair or replacement decision.
TE Certified is a Rheem Pro Partner. We repair and maintain every major brand including:.
Rheem
Carrier
Lennox
Trane
Rudd
Amana
American Standard
York
Goodman
Bryant
Westinghouse