Home Generator Maintenance Service near Atlanta
Regular whole home generator maintenance service extends the life of your unit and protects your investment. Just like with a car or lawn mower, failure to complete regular maintenance can lead to unnecessary repairs or even void the manufactures' warranty on your generator.
With TE Certified GenCare an experienced generator specialist will complete a maintenance service and an inspection visit every year to ensure your whole home generator works when you need it to and protects your home investment.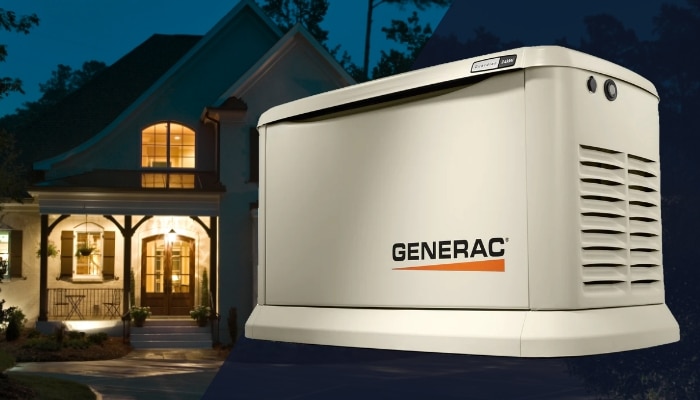 What You'll Get with TE Certified GenCare
Here are the steps our Certified Electricians will take when we provide whole home generator maintenance service:
Engine System
Maintenance completed during the service visit.
Change oil and oil filter
Replace the air filter
Replace spark plugs
Control Panel
Check that the control panel fuse is good.
Battery
Check that the battery terminals are clean and tight.
Check that the battery voltage is correct.
Check the integrity of the fuel system components (fuel plenum, regulator assembly, external fuel lines, etc.).
Check all fuel system fittings to ensure they are tight and not leaking.
Check that the fuel system is clear of debris and corrosion.
Transfer Switch
Check all connections and fuses inside transfer switch(s)
Testing
Load testing the generator by simulating a power outage to ensure everything is working when you need it the most.
Check voltage readings at the generator.
Enclosure
Check all foreign material is removed from inside and outside the enclosure.
Check the intake and exhaust louvers on the sides of the generator are clean and free of debris.
Clean the generator of any mud, mildew, or debris that may have collected.
Surrounding Area
Check that the generator is not placed in the direct path of irrigation systems, downspouts, or positioned underneath an eve without a gutter.
Check that the generator has a proper clearance of 18" from the back and 36" on each side of the generator, and 5′ in front of any windows or openings into the home (including plants, fences, and other materials).
Check that the unit mounting surface is in good condition (free from cracks, stable, level, etc.).
Check the area surrounding the unit for evidence of excess water (standing water, eroded landscape, water marks on enclosure, etc.).
Generator Maintenance FAQs
How often should I schedule maintenance on my generator?
We recommend doing our GenCare service plan which includes 2 visits a year. Once inspection visit and one maintenance visit.
How long does a generator maintenance visit take?
Do I need to be home for the visit?
Yes, we will need someone to be onsite.
Will my power be off?
The answer is yes, at some point we will need to test and cycle the power to simulate a power outage.
What brand of generators does TE maintain?
TE maintains all major brands of residential generators, including:
Generac
Kohler
Briggs and Stratton
Olympian
Call to schedule your service today!