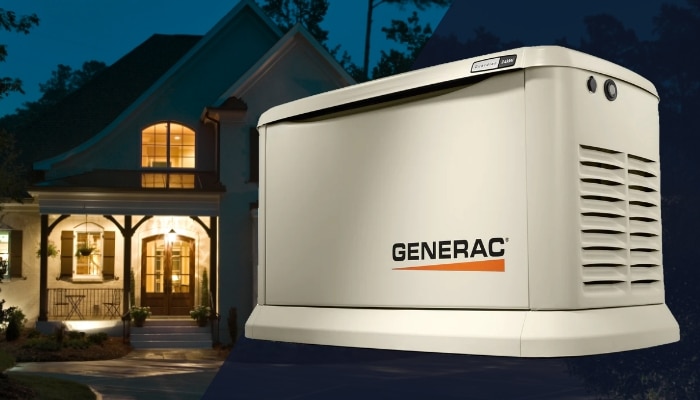 Should I Install A Whole Home Generator for My Home?
A power outage that lasts for a few hours is really nothing more than inconvenient, requiring a few candles to be lit or flashlights to find your way in the dark. But when a major storm knocks out your power for several days, life can get really difficult. Cooking can become quite the chore, food begins to spoil and heating or cooling the home is more difficult.
Extended outages in the winter can be even more dangerous with plummeting temperatures and no significant heat source, it can even be a deadly combination. This is why many people have turned to whole home generators, they can be a real life saver.
Purchasing a Backup Generator near Atlanta
Anyone that has ever looked into purchasing a generator, knows that it is no easy task! With today's high-tech homeowner requiring more electricity than ever before, finding the proper size for your home's needs is very important.
To find the right size generator, begin by totaling up the wattage needs of the appliances that will be powered during such an outage, giving special attention to the startup wattage of bigger appliances like refrigerators which are always going to use more than the running wattage.
To jump-start the sizing process, manufacturers like Generac have a sizing calculator on their website to make it easy for you.
They will have a checklist of the items that will need to be powered in case of an outage, such as security system, heating system, refrigerator, TV, personal computer, etc. The calculator will tally up the amount of wattage you will require, and suggests the best fit for your home also taking into consideration the square footage.
Your Home's Electrical Items
Electronic items such as computers, plasma TV's or complicated controls that are found in new model HVAC systems can be sensitive to the power that is used to run them. Grid-supplied electricity can operate these devices with no problems at all. The power that comes from generators is not grid-supplied.
All generators produce something called Total Harmonic Distortion (THD) which has the potential for issues in high-end or sensitive electronics, which can mean that the HVAC system will not recognize the power or the plasma TV might have a line running through the screen. This issue has led to newer models of generators being manufactured to help reduce the negative effects on sensitive electronics.
If you are thinking about purchasing a generator and have sensitive or high-end electronic devices, you should consider a generator with the THD of 6% or less.
Are You a High-Tech Homeowner?
In addition to the power output improvements in newer model generators, manufacturers have stepped it up a notch to keep up with the needs of today's high-tech homeowner. Some models are now internet-ready, complete with Ethernet ports to bring the generator online. The software will allow the generator to send text messages or emails to homeowners when the generator comes on.
If away on vacation, homeowners can access and run diagnostics online to make sure the generator is prepared to turn on when a storm is expected. With all of the worries of everyday life, this is one that you can take off the list.
Hire an Elite Generac Authorized Dealer near You
TE Certified is a Elite Generac Authorized Dealer for the Atlanta area and our team of qualified, experienced electricians are ready to help install your whole home generator and get you one step closer to peace of mind.
Call us today, 770-667-6937 (770-NO POWER).